These special-editions Quatloos commemorates those who have made a name for themselves in their particular business endeavors.
100 Q
Thurston Bell
Our 100Q Woopoo chips commemorate promoters of tax scams.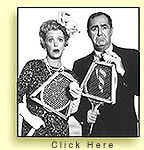 Tax scam artist and Quatlooser Thurston Bell (no relation to millionaire Thurston Howell III, pictured right) has become known as the chief advocate of the "861 Argument" which is basically that nobody knows what "income" is, therefore nobody except a foreigner has to pay tax on it. Presumably, if nobody could define what "air" is, Thurston and his follows would immediately stop breathing.
Well, we're not going to waste our breath exploding Thurston's theory – that is done below along with the U.S. Department of Justice's press release announcing that they are seeking an injunction against Thurston Bell's tax scamming activities.
It is a lot more fun to talk about the dispute between Thurston and fellow Qualtooser Rick Haraka a/k/a Rick Bryan. You see, Haraka runs a website at http://www.taxgate.com and Thurston participated. They had a falling out, Thurston left and formed http://www.tax-gate.com and the National Institute for Taxation Education (a/k/a "NITE" or "We Are In The Dark"). After the split-up, things turned acrimonious, with Thurston claiming that Bryan hacked into his computers, and Bryan claiming that Bell has a serious mental disorder. Thurston now claims that he was the original author of the www.taxgate.com scam, but Haraka claims that he was the one who originally came up with the scam.
We encourage those who have worked with Thurston Bell or are currently working with Bell and are:
fed up with Thurston Bell's poor and unprofessional casework.... usually done and delivered to you at the very last minute so that you don't have the time to proof-read it and correct the bad grammar, misspelled words, filter out the obnoxious comments towards the very people he is trying to elicit help from, etc. etc. (Very well documented!)

afraid of being left out on a limb when it comes time for your IRS meeting or interviews (it is well documented by those who have used Thurston Bell in the past how he left them in a severe bind and all alone when the time came for very important meetings and IRS responses)

tired of his immature, paranoid, and volatile personality

worn-out by his continual and unexpected severe 'mood swings'

weary of being embarrassed by him amongst your friends, family, and associates for his tirades and his 'superior' attitude

tired of wasting hours on the phone to get a simple 2 minute question answered... if you can reach him at all!

having to continually apologize for and remedy his damaging and careless actions..... much to your surprise and dismay, as he is busy at work doing the same thing somewhere else..... and while you are still getting the first one patched up!
Thurston Bell has repeatedly made it know that he expects researchers 20+ years his senior in experience to drop what they are doing and help him 'perfect' his unproven tactics and then recognize him as the leader!

Thurston Bell also has a relentless push for a "Unified Leadership".... which ANYONE would agree is a good strategy...... no argument there at all! Except for one problem...... Thurston Bell is not content unless it is..... guess who?...... You are right..... BELL HIMSELF!

Thurston Bell wants to be the nationally recognized LEADER of the income tax law research field! Folks, in the words of 98% of the income tax community..... this 'BELL' is CRACKED.

________________________________
Thurston Bell's Argument Exploded
For federal income tax purposes, "gross income" means all income from whatever source derived and includes compensation for services. I.R.C. § 61. Further, Treasury Regulation § 1.1- 1(b) provides, "[i]n general, all citizens of the United States, wherever resident, and all resident alien individuals are liable to the income taxes imposed by the Code whether the income is received from sources within or without the United States." I.R.C. sections 861 and 911 define the sources of income (U.S. versus non-U.S. source income) for such purposes as the prevention of double taxation of income that is subject to tax by more than one country. These sections neither specify whether income is taxable, nor do they determine or define gross income. Further, these frivolous assertions are clearly contrary to well-established legal precedent.
Relevant Case Law:
Great-West Life Assur. Co. v. United States, 678 F.2d 180, 183 (Ct. Cl 1982) - the court stated that "[t]he determination of where income is derived or 'sourced' is generally of no moment to either United States citizens or United States corporations, for such persons are subject to tax under I.R.C. § 1 and I.R.C. § 11, respectively, on their worldwide income.
Williams v. Commissioner, 114 T.C. 136, 138 (2000) - the court rejected the taxpayer's argument that his income was not from any of the sources listed in Treas. Reg. § 1.861-8(a), characterizing it as "reminiscent of tax-protester rhetoric that has been universally rejected by this and other courts.
Corcoran v. Commissioner, T.C. Memo. 2002-18, 83 T.C.M. (CCH) 1108, 1110 (2002) - the court rejected the taxpayers' argument that his income was not from any of the sources in Treas. Reg. § 1.861-8(f), stating that the "source rules [of sections 861 through 865] do not exclude from U.S. taxation income earned by U.S. citizens from sources within the United States." The court further required the taxpayers to pay a $2,000 penalty under section 6673(a)(1) because "they . . . wasted limited judicial and administrative resources.
Aiello v. Commissioner, T.C. Memo. 1995-40, 69 T.C.M. (CCH) 1765 (1995) - the court rejected the taxpayer's argument that the only sources of income for purposes of section 61 are listed in section 861.
Madge v. Commissioner, T.C. Memo. 2000-370, 80 T.C.M. (CCH) 804 (2000) - the court labeled as "frivolous" the position that only foreign income is taxable.
Solomon v. Commissioner, T.C. Memo. 1993-509, 66 T.C.M. (CCH) 1201, 1202 (1993) - the court rejected the taxpayer's argument that his income was exempt from tax by operation of sections 861 and 911, noting that he had no foreign income and that section 861 provides that "compensation for labor or personal services performed in the United States . . . are items of gross income.
Thurston Bell's argument is also thoroughly de-bunked starting at http://evans-legal.com/ dan/ tpfaq.html#section61
---
Oh, and almost forgot:
FOR IMMEDIATE RELEASE
THURSDAY, NOVEMBER 15, 2001
WWW.USDOJ.GOV
TAX
(202) 514-2007
TDD (202) 514-1888
JUSTICE DEPARTMENT SEEKS INJUNCTIONS
AGAINST THREE PROMOTERS TO HALT
NATIONWIDE BOGUS-TAX-REFUND SCHEME
Promoters Of Frivolous "Section 861" Scheme
Ignored Repeated Warnings To Stop
WASHINGTON, D.C. – The Department of Justice today filed lawsuits in federal courts in three states to crack down on a nationwide bogus tax refund scheme based on a misinterpretation of Section 861 of the Internal Revenue Code. Two of the suits named leading promoters of the "Section 861 argument"—Thurston Bell of Hanover, Pennsylvania and David Bosset of Clearwater, Florida. In the third case the government sued an Atlanta accountant and tax return preparer, Harold E. "Hal" Hearn, alleging that he has prepared federal income tax returns for taxpayers in 11 states that improperly claim tax refunds or report no income. The three suits were filed in U.S. district courts in Harrisburg, Pennsylvania; Tampa, Florida; and Atlanta, Georgia.
"Bell, Bosset, and Hearn have preyed on uninformed taxpayers, convinced them to pay exorbitant fees for erroneous advice, and sold them a theory that has been rejected as frivolous by every judge who has examined it," said Eileen J. O'Connor, Assistant Attorney General in charge of the Justice Department's Tax Division. "The Justice Department filed these three injunction suits because the Section 861 argument is frivolous. We will take the action that is necessary to stop people who attempt to defraud the public using this and other abusive tax plans."
The Government's court filings allege that Bell has promoted the Section 861 argument through a website on which he states that Section 861 of the Internal Revenue Code and associated regulations exempt from taxation all domestic income earned by United States citizens. The United States Tax Court has on numerous occasions rejected that argument and recently fined a taxpayer $25,000 for asserting it. Court papers further allege that Bell sells recordings of his seminars and charges hourly fees for giving erroneous tax advice and preparing documents for clients to use in asserting the argument. The government complaint estimates that Bell may have more than 100 individual and corporate clients throughout the United States. One Bell client cited in the complaint is No Time Delay Electronics, a Huntington Beach, California-based company that has been featured in national print and television news media for refusing to withhold taxes from its employees' wages.
According to the complaints filed in Pennsylvania and Florida, another Bell client—David Bosset—improperly claimed tax refunds for his company using Bell's materials. The IRS erroneously refunded $21,916.45 to Bosset's company but has sued to recover the refund. According to the complaint filed against Bosset in Florida today, Bosset has sold false or fraudulent Section 861-related promotional materials and has charged clients over $100 per hour to show them how to use the Section 861 argument to falsely claim that they owe no payroll or income taxes. Recently, the complaint alleges, Bosset began preparing income tax returns falsely reporting no income for some clients, while charging them thousands of dollars for his services.
The third man sued today—Harold E. "Hal" Hearn—is an Atlanta accountant and tax return preparer. Court papers allege that Hearn learned of Bell's tax-refund scheme and paid Bell $1,000 to purchase materials that Hearn then used to assist his own clients in filing improper refund claims and tax returns. The government complaint notes that the IRS erroneously refunded at least $168,782 to Hearn's clients before discovering the bogus nature of the claims.
The IRS has issued four public announcements in 2001 informing the public that the Section 861 argument is frivolous. The three complaints filed today allege that Bell, Bosset, and Hearn have ignored these and other warnings and continued to solicit clients, collect fees for erroneous tax advice, and hamper IRS efforts to collect proper tax liabilities. The Justice Department has asked the three federal courts to enjoin the three men from further promoting the frivolous Section 861 argument and to bar Bosset and Hearn permanently from continuing to prepare federal income tax returns.
###
01-597
---
What Jonathon B. Kotmair, Jr., of the Save-A-Patriot Fellowship, says of Thurston Bell:
Mr. Bell's statements speak for themselves. Since each of his fallacious allegations either betrays any possible understanding of the most basic elements of English grammar and statutory construction, or; lacks any fundamental ability to discern clear fact and reason when presented with such, or; evidences a serious shortcoming of the basic, common sense necessary to the most fundamental ratiocination, or; simply displays a petulant and sophomoric nature fueled by a megalomaniacal ego, or; all of the preceeding in toto, we can only conclude - and sadly so - that his specious reasoning and pejorative invective can only be attributed to the feckless acts of a hubristic blatherskite.
What Steve Fitzgerald says about Thurston Bell
Subject: 861 Argument -- Dead & Stinkin'

You have been repeatedly informed of the fact that you cannot resort to Code of Federal Regulations section 1.861-8 unless you have ALREADY DETERMINED that you have gross income as defined in section 61 of the Internal Revenue Code, yet, you refuse to acknowledge the truth. How mature.
"1.861-8 Computation of taxable income from sources within the United States and from other sources and activities.

(a) In general-- (1) Scope. Sections 861(b) and 863(a) state in general terms how to determine taxable income from sources within the United States AFTER GROSS INCOME FROM SOURCES WITHIN THE UNITED STATES HAS BEEN DETERMINED."(Emphasis added)

CFR sections 1.861-1(b) and 1.863-1(a) are sections that deal with and refer respectively, to the subject matter found in 1.861-1(a)(3) income "partly within and partly without" the United State. In other words, when an individual receives income from both foreign and domestic sources, you need to resort to the mechanical rules found in Section 861 that apply!!

If that is not enough to explode your silly theory, right at the beginning of "your" hobby section CFR 1.861-8(a)(3) "Class of gross income" states very clearly that the "class of gross income" may consist of one or more ITEMS enumerated in section 61 of the Internal Revenue Code, and then proceeds to reproduce the entire list found in section 61 at 1.861-8(3)(i). So you cannot escape section 61, in the manner you propose with "YOUR" infantile THEORY!

Additionally, if, in the first place, you are claiming you don't have gross income, what in the blue blazes are you doing arguing the merits of a code section designed to aid in the determination as to what specific deductions and credits apply to income deemed partly from within and partly from without the United States!?? "Your" silly theory falls flat on its face before it gets off the ground. You consequently, defeat your own argument when you wander into 861, and begin invoking the rules therein!!

EITHER YOU HAVE GROSS INCOME OR YOU DON'T EINSTEIN!!

As I told you in July of 1999, when I met you at your armory in Pa., PLEASE BUY A DICTIONARY! You cannot resort to section 861 AFTER you have already determined you HAVE gross income! For the ten-thousandth time, the word "AFTER" when used as a preposition, is defined as " 1: BEHIND IN PLACE." (see Webster's New American Dictionary 1995, pg. 10.) And the word "item" means a "separate particular in a list." (Ibid. pg. 278). Your arguments are frivolously infantile, and "your people" will be either fined and/or imprisoned when they go to any kind of hearing chanting the inane ditties you espouse.

When Stephen Williams used "your" 861 argument he was fined $5,000.00 for being frivolous, and promoting previously rejected tax-protestor rhetoric before the court. (see below). Professor Richard A. Westin completely shatters to pieces "YOUR" argument when he states on page 383 of his 1984, "Lexicon of Tax Terminology":

"Item of gross income: a particular component of a taxpayer's gross income. (e.g., salary, interest income, etc.)."

So an "item of gross income," can never be separated from the SOURCE from which it issues as you foolishly posit. The SOURCE of the ITEM of gross income, "e.g., salary, interest income," "wages, " windfall gains, or any of the components of gross income that are listed as being subject to federal income taxation, are inseparably dependant for a clear and comprehensive definition. To attempt to forcibly separate the two words does violence to every rule of English grammar, and renders the definition meaningless.

Is it that you are such a crook, or are you so dense that you cannot comprehend the clear foolishness in the old muddleheaded 861 THEORY? The THEORY that you now CLAIM AS YOUR OWN, as you do whenever anyone shares their research or ideas with you. You distort everything with which you come into contact, then claim to be the origin of the material. You used my laboriously acquired research, which took years to formulate, in violation of our mutual agreement concerning non-disclosure, and displayed certain data, given to you in confidence, on your website as if such material was the product of your own efforts. How sad you cannot be honest with your own intellect.

You stated on your website in July of '99 that American citizens were made liable at section 1 of the Internal Revenue Code, and that the requirement to file a return was at 6011, then you removed it in November '99, and you now have gone back to spouting your old 861 BS again because you saw an opportunity to be a shooting star on the heels of the Bosset Marketing fraud you engineered. Now, instead of offering Bosset the protection he needs, you refuse to make it available by repudiating "your" pet THEORY. You will surely face destruction for your greed and lust to be POPULAR.

Face it, the fact is, you cannot shake the inclination to twist IRS statutes out of context, to support the basically woodenheaded theory that Kotmair inculcated in your brain. Twisting revenue statutes out of context was a technique taught to you by the "ex-cop" John Kotmair of Save-A-Patriot Fellowship. Old teachings die hard I guess.

In reality, the fact is, the 861 THEORY you claim as your own, was actually first evinced in the early 80s. A product of the meandering and imaginative mind of the songwriter F.Tupper Saussy, conceived when your mother was still walking you to school. The theory was bounced around by the incompetent "lawyer" Becrafty, further revised by James Shakleford, who submitted it to John Kotmair, who summarily rejected it as being so patently frivolous, that even the master word manipulator Kotmair couldn't find a way to twist it out of context to fit HIS own equally silly theory.

As far as the flat-out lie you tell about saving the poor Mr. Webb from prison, I only have this to say to you.

By Mr. Webb's own admission, when he went before the judge in a hearing aimed at violating his parole for failure to file an income tax return, all the judge was concerned with was whether he would file a return, period. It is not the duty of the judge to determine the validity of the contents of the return, and the judge demonstrated as much in open court, despite the government's objection that Webb clearly filed 3 false information returns filled with tax-protestor rhetoric. Mr. Webb however, does not remember what the judge said after he handed the three returns to her because it "is still a blur," to use Mr. Webb's own words. But that does not stop Mr. Webb from giving Thurston Bell credit for saving him from prison, even though he is suffering from amnesia regarding the event.

To be sure, it was simply a matter of fulfilling the obligation to file, and not what information the returns contained. Which, mind you, will surely be deemed false returns after the IRS processes them, as they stated as much in open court, according to Mr. Webb's recollection.

It is clearly the duty of the IRS, and not the judge, to initiate another criminal prosecution against Mr. Webb for filing false returns, which you can bet your cold hearted mercenary little arse, THEY WILL.

Note: Mr. Webb stops short of saying that he argued and convinced the judge of the merits of the gross income malarkey marketed by NITE and yourself.

When Mr. Webb realizes that you set him up for another stay in the friendly confines of Federal Prison, and is also entitled to another wonderful prison bus ride around the country-side trussed up with about five pounds of chains and hand-cuffs, I will personally urge him, and then assist him, in seeing that you get all the just recognition for "YOUR THEORY" as you deserve. We will see if Mr. Webb gives you the credit for garnering him a new case as a result of your advice. If I ever have the opportunity to speak with Mr. Webb, he would be turned around in a few minutes after hearing about your background.

Also, we do not cite Ward!? We cited the Walker case from the 9th Circuit Appellate Court decision. The fact that you are unaware of any cases, including the 1990 Walker case, as well as the other cases that dealt with the 861 issue, is just the point, and highlights your incompetence. You spout some nonsense to the effect that 861 is "Your ARGUMENT," that you invented it, and you are not even aware that is has been argued in the courts before you even adopted the THEORY as your own invention. Nor do you even care. You are Like Becraft, Kidd, Conklin Schulz and Kotmair, etc., who lie for hire, misrepresent their theories as fact, and claim their arguments have never been heard by any court.

You added a little BS extracted from Kotmair's theories, gave the frivolous 861 argument a new name, the "gross income argument" and voila, it become "yours". How convenient! Renaming someone else's theory, does not make it "YOURS" you silly boy!

The 861 THEORY has been circulating for approximately 16 years. Do you honestly think that the Williams case in March of this year was the first case ever to raise the 861 argument? Come now, are you going to look "YOUR" people right in the eye and tell them that Williams was the first one to be to be trounced and fined for using the ridiculously inane 861 defense?

Your brazen and outright fraudulent characterization of the Williams case, wherein you claim the argument wasn't even addressed is reprehensible. Further, we do not base our statements on anyone else's observation but our own, least of all the observations of the untrustworthy individual who posts on tax-protestor forums under the name Ed Senter.

In the case of "114 T.C. No. 8 UNITED STATES TAX COURT STEPHEN W. WILLIAMS, Petitioner v. COMMISSIONER OF INTERNAL REVENUE, Respondent Docket No. 23179-97. Filed March 1, 2000." in part, beginning on page 5, the court stated:

"- 5 - Discussion I. Deficiency Liability Petitioner does not challenge either the facts on which respondent's determination is based or respondent's calculation of tax. In fact, respondent based the computation of the deficiency on the amounts reported by petitioner on the altered1040 and the disclaimer 1040. Petitioner, nevertheless, contends he is not liable for the deficiency. Petitioner claims that (1) he did not volunteer to self-assess or pay his taxes, and he therefore cannot be held liable for any deficiency; (2) HIS INCOME IS NOT FROM ANY OF THE SOURCES LISTED IN SECTION 1.861-8(A), INCOME TAX REGS., AND THUS IS NOT TAXABLE; and (3) the notice of deficiency was improperly issued because petitioner disclaimed the tax liability shown on the return. PETITIONER'S ARGUMENTS ARE REMINISCENT OF TAX-PROTESTER RHETORIC THAT HAS BEEN UNIVERSALLY REJECTED BY THIS AND OTHER COURTS. We shall not painstakingly address petitioner's assertions "with somber reasoning and copious citation of precedent; to do so might suggest that these arguments have some colorable merit." Crain v. Commissioner, 737 F.2d 1417, 1417 (5th Cir. 1984). Accordingly, we conclude that petitioner is liable for the deficiency determined by respondent." (Emphasis added)

In other words, since the issues raised by Williams had already been "universally rejected" by other courts, it was rejected in the Williams case, the court was not compelled to specifically address the merits of the old, frivolous, tax protestor rhetoric. The court was concerned that by rejecting such a ridiculous contention with "copious citation," it might lend the appearance that the 861 argument, and others employed by Williams, are rational, or viable arguments, so they just dismissed it all as "tax-protestor rhetoric." The court also specifically stated that other courts have rejected these arguments. If the court will not address them, how can you offer it to people as a viable defense. This is what you offer as security to "your people?" Do you think the court will listen to "YOUR" silly defense that depends on torturing and perverting the rules of English grammar? I hope you have $5,000.00 dollars in your pocket when you open your big bazoo!

Your so-called wins with the 861 argument are no different than Irwin Schiffs isolated instances were people occasionally receive checks back for filing -0- returns. These IRS forms are processed by low-level bureaucrats, which almost certainly, do not understand all the issues involved. Either an elaborate sting is being conducted, or they will certainly be audited later, and rest assured, "your people" will be fined and or prosecuted.

On page 14, it is revealed, in addition to Mr. Williams' other problems, that he was fined an additional $5,000 for raising, among other tired old rejected tax protestor theories, the 861 "sources" nonsense:
"Petitioner's arguments concerning the underlying deficiency amount to tax protester rhetoric and are MANIFESTLY FRIVOLOUS AND GROUNDLESS. He has wasted the time and resources of this Court. Accordingly, we shall impose a penalty of $5,000 pursuant to section 6673." (Emphasis added)

When arguments reach such a degree of frivolity, the court is perfectly justified in refusing to address them, and does so as a rule. More importantly, if the court rejects the arguments, and proceeds to exact huge fines and penalties, it is recklessly criminal to continue telling people that "your" pet theory has not been ruled upon, when it has. "Your" little ride on the gravy train is over Thurston Bell, now how are you going to pay back all the individuals, like Ray Berglund, whom you fleeced out of approximately $10,000 for so-called "legal" help you knew you could not provide. I dare say, you will now have to sell your little armory at in Hanover, PA, to pay all the
people back. I think you will need to sell your personal arsenal purchased with the money you have unlawfully taken from all the sincere patriots you have unlawfully hoodwinked.

Also, save your self the trouble by responding, like Kotmair trained you to do, by saying that Tax Court is not a real court like the District Courts and such. The administrative tribunals have been integrated into the constitutional structure with the advent the New Deal program called Social Security:

"The Court's role in the administrative state has been that of both facilitator and sceptic. The Court assumed leadership in the CONSTITUTIONAL EVOLUTION THAT INTEGRATED THE ADMINISTRATIVE AGENCY INTO OUR CONSTITUTIONAL STRUCTURE. The Courts acceptance of lawmaking powers to the administrative agencies is now settled, yet it remains an important factor in the growth of the administrative state. Having allowed the establishment of the administrative state, the Court assumed a role in supervising the agencies."(Oxford's Companion to the Supreme Court of the United States) (emphasis added) (See also "Constitutionalism After the New Deal," Cass R. Sunstein, Harvard Law Review 101 (1987)

So the Tax Court is a force to be reckoned with you foolish boy.

Also, be forewarned Bell, we are currently assembling a list of individuals who have been damaged by you with an aim to file a group action suit against you that will soon, unfortunately, put your poor family in the street, and you behind bars. Quite the responsible family man aren't you? So keep on telling the people "your" theory is still viable, and has not been addressed or rejected by the courts. You have proven yourself to be as low-down, vile, and mercenary, as the fraud – Becrafty. I have been discussing this situation with a legal group you have recently offended. Given these guys contempt for fraudulent people in general, but to be a flag waving fraud. . . Well. . .lets just say I bet it wouldn't be too hard to convince them to help arrange for Becrafty, Kotmair, and the rest of your ilk, to pay your members back, and then hung out to dry in a prison somewhere.

As far as your comment about TTS "selling the truth," we would much rather be "selling the truth," than selling a lie--as is clearly your preference.

Also, as far as results are concerned, we have assembled a formidable legal team that will be presenting TTS research for M.I.R.S.L. members. "Your" NITE members and the entire patriot movement will soon see what you, and the other avaricious tax-quack gurus have been denying them.

Despite your pledge to distance yourself, you will not be able to distance yourself far enough away from us, because many of our members have been convinced that you have intentionally damaged them with your so-called results, so they want to now damage you.

You damaged Mr. Tiffany and others. Mr. Tiffany is fighting to keep a roof over the heads of his family, because of your fraudulent misrepresentations. Then as a result of the obvious rejection of "your argument that ends all arguments" by the government, you publicly smeared the man in order to save face and go on committing fraud. That will be your undoing young laddie.

We expect to see that your poster-boys, who represent the so-called "wins" you claim, we expect they will be joining our ranks sometime around when they receive their indictments for conspiracy to defraud the United States government. Then they will all be coming after you, as such action will suddenly be part of their defense – don't you know -- and I wouldn't want to be in YOUR shoes.

When we turn up the heat on you PAL, prison will sound like a pleasant alternative. But don't worry, you will have plenty of company when Kotmair and Becrafty join you. What we would like to know, when and where would you like your indictment delivered, we will instruct your ex-members to give that address when they file their complaint with the Justice Department.

You seem to fancy comparing your activities to that of famous military leaders, however, one immediately springs to the mind of TTS. When we think of you, we see a leader like General Grant. The general who earned the nickname the "Butcher," with his reckless Wilderness campaign wherein the Union Army suffered 17,000 casualties in two days–more than twice as many than the Confederates. Or Grant's Cold Harbor campaign wherein he allowed his troops to run frontal assaults straight into the Confederate Army's entrenched positions, only to have 5,000 men killed in one hour.

Like the cold-hearted Grant, you are comfortable sending "your people" straight into artillery fire, not giving a whit if you turn them into sausage. If you have your way, countless soldiers will be needlessly massacred.

However, you would probably attempt to profit off the carnage, and run for president. Why not" It worked for Grant. Who knows, you might just get elected. Sound farfetched? Not really. Leaders who have no compunction about sacrificing humans for glory, have always been right popular!

You had a chance to do the right thing. Good luck to you and "YOUR" own DEVICES, may they be your undoing.
---
FOR IMMEDIATE RELEASE
FRIDAY, JUNE 28, 2002
WWW.USDOJ.GOV
TAX
(202) 514-2007
TDD (202) 514-1888
JUSTICE DEPARTMENT FILES LAWSUIT
IN TAX FRAUD SCHEME

WASHINGTON, D.C. – The Justice Department filed suit today in Denver against Colorado Mufflers Unlimited, Inc., of Northglenn, Colo. According to the suit, the company, which does business as Exhaust Pros, filed false claims for refund with the Internal Revenue Service for 1997 and 1998.
Colorado Mufflers sought a refund of payroll taxes it had paid by asserting the so-called 861 argument. That argument says that only income from foreign sources is subject to U.S. tax, and not amounts U.S. employers pay to U.S. citizens. The Internal Revenue Service mistakenly paid the refund, and the suit filed today seeks to recover that refund plus interest, nearly $90,000 in all.
"The 861 argument is nonsense. People who file false claims for refund are breaking the law and will be held accountable for their actions," said Eileen J. O'Connor, Assistant Attorney General for the Justice Department's Tax Division.
In a related case, the Department previously filed suit in federal court in Harrisburg, Pa. against Thurston Bell. Bell is the founder of the National Institute for Taxation Education (NITE). According to the papers filed in that case, Bell uses NITE's Web site to promote his corrupt 861 scheme to potential clients. The Web site claims that the tax refunds Colorado Mufflers received were the result of "information, data and training" that is made available exclusively through NITE membership. Contrary to that assertion, however, the refunds were merely the result of an administrative error which today's lawsuit seeks to reverse.
According to the government's filings against Bell, he charges customers $195 for membership in NITE. The suit against Bell seeks to bar him from promoting his corrupt 861 scheme and to require him to remove from the NITE website all materials promoting tax evasion.
Bell's case is one of four cases the Justice Department has filed recently to stop the promotion of the foreign-source income scheme. Earlier this month, a federal court in Tampa banned Douglas P. Rosile, Sr., a Venice, Fla.-based former accountant, from preparing tax returns and from promoting the foreign-source income argument. Last month the federal court in Tampa ordered David Bosset to stop preparing tax returns and promoting fraudulent tax schemes based on the Section 861 argument, which it called "absurd on its face." In January, the Department obtained an injunction against Harold E. "Hal" Hearn, an Atlanta-based CPA, prohibiting him from preparing returns based on, or promoting, the foreign-source income argument.
Tax evasion schemes cost United States taxpayers billions of dollars a year. According to a report the General Accounting Office issued in May 2002, however, IRS and Justice Department efforts have led to increasing numbers of convictions for promoters and individuals involved in tax fraud schemes.
###
02-382

---
FOR IMMEDIATE RELEASE
FRIDAY, JUNE 28, 2002
WWW.USDOJ.GOV
TAX
(202) 514-2007
TDD (202) 514-1888
JUSTICE DEPARTMENT SUES FLORIDA MAN
TO HALT TAX SCAM
St. Petersburg Man Alleged to Promote Frivolous "Section 861" Scheme
WASHINGTON, D.C. - The Department of Justice today filed a lawsuit against Everte C. Farnell of St. Petersburg, Fla., alleging that he is promoting an illegal tax scheme. The lawsuit, filed in federal court in Tampa, is part of the Justice Department's continuing crackdown against a nationwide tax scam in which promoters falsely claim that income from sources in the United States is not subject to federal income tax. The scam is known as the "Section 861 argument," after the tax code provision it misinterprets.
"The courts have uniformly rejected the Section 861 argument, penalized those who assert it, and enjoined those who promote it," said Eileen J. O'Connor, Assistant Attorney General for the Justice Department's Tax Division. "Promoters of this scam line their pockets, while getting their customers in serious trouble."
The government's complaint states that Farnell touts himself as the "Chief Tax Consultant" of the "Problem Resolution Group" of the so-called "National Institute for Taxation Education" or "NITE." According to court papers filed in a government suit against NITE's owner, Thurston Bell, NITE and Bell operate a website promoting the Section 861 argument. The complaint also states that Farnell prepares tax returns for clients who declare their income is zero, regardless of how much money they earned.
The Justice Department has already obtained injunctions against three other promoters of the bogus "Section 861 argument" - Harold Hearn of Atlanta, David Bosset of Spring Hill, Fla., and Douglas Rosile of Venice, Fla.
###
02-555
---
Bell's own lawsuit thrown out of court -- http://www.pamd.uscourts.gov/opinions/kane/01v1725.pdf
Some interesting reading about Thurston -- http://home.hiwaay.net/~becraft/TBellmail.html
---
Devvy Kidd Trashes Thurston
By the way, our good friend and felon on the run for bank fraud, peddler of the "social security is a contract" bilge, Steve DeLuca, phoned in during the show and calls Larry Becraft a traitor. Darn, I'm the only one who didn't get attacked. I feel so left out, but I thoroughly enjoyed this interview and I thank an e-mailer named Bill for making me aware that the interview had been posted. Although, I must say, Bill is slightly peeved at one individual:
Subject: Re: Vote Fraud
Date: Wed, 8 Nov 2000 16:01:00 -0600
From:
To: "devvy kidd" <wallace@devvy.com>
When you meet that Thurston Bell of NITE, tell him to go straight to the devil. He's not what I thought he was. Read Kotmair v. Brown. http://www.save-a-patriot.org/index.html. Now I understand why you had trouble with NITE. I'd like to hear about your analysis of the vote tabulations in California.
Bill

As a matter of fact, I will be seeing Mr. Bell on the 11th in Huntington Beach at a function we're both attending, but he's already sent me an e-mail with a dire threat that has me shaking in my boots:
Subject: Re: You have missed the point
Date: Tue, 7 Nov 2000 01:01:35 -0500
From: " NITE" <somebody@nite.org>
To: "devvy kidded" <wallace@devvy.com>
"When you see me on Saturday, do not bother to try to speak to me, or send anyone to speak to me on your behalf....You are a half-witted woman and disinformation spreader. If this were the year 1776 and you my wife, I would exercise the rule of thumb by putting you on public display in a stockade for being a gossip."
Thurston Bell

This is the kind of stuff Larry and I have to deal with, but mostly we try to ignore. It does nothing but interrupt our workday and we will not be deterred from the legal work The Wallace Institute is doing on behalf of all Americans.
---
More Devvy Kidd on Thurston Bell
July 1, 1999, National Press Club: The day was long but it got even longer when an ugly incident occurred with a person by the name of Thurston Bell; all was captured on video. Right after Joe Banister resigned from the IRS, Mr. Bell wasted no time in slandering and defaming this decent man. Right on the front page of his web site was this ugly stuff and loud proclamations that he would "have to immediately hire 10 people to help those that Joe got in trouble with his methods." First of all, Joe Banister, not once, ever, has told people what to do as far as their own personal situation with the IRS. Bell's green gas plastered all over his web site said a lot about him.

After the luncheon, during which Congressman Jim Traficant showed his true colors as another phony politician who refused to directly answer any question, Mr. Bell and an associate of his (a man named Steve DeLuca who goes by the alias of Fitzgerald, who has apprently served time in prison on bank fraud and is wanted for credit card scams), barged into the symposium. To say that Bill Benson, Joe, Larry, Bill Conklin and I had our mouths drop open all at the same time, is putting it mildly. What brass, but then again, Bell probably thought he was going to be on C-SPAN. Thankfully that wasn't the case. He didn't appear on Friday when C-SPAN did televise live and missed his 15-seconds of fame.

Anyway, one thing led to another and there was a floor vote by the directors of the foundation to force Bell and his associate to pay their attendance fee and for the lunch they mooched. They didn't like this request because I guess they thought they were better than everyone else. I guess they felt that we should all get on our knees and genuflect to the mighty one, Thurston Bell and guest. Didn't fly. And to show you what kind of person Joe Banister is, he said that Bell and his bud should have the opportunity to express their opinion.

A shouting match of sorts ensued and finally Bob Schulz, who spearheaded this project, got things under control. Thank God this wasn't the day that C-SPAN was filming! After listening to Bell huff and puff for awhile and then his pal stand up at the podium and further confuse people, Bill Conklin and I went out into the hallway to finally breathe some fresh air. It truly was pathetic.